Treatment Overview
Modern principles of treatment for venous disorders of the legs include accurate diagnosis using ultrasound, sclerotherapy, ultrasound guided sclerotherapy, endovenous laser ablation, and scarless surgical techniques.
Hunter Vein Clinic applies these principles to ensure patients receive the very best medical treatment on an individual basis, in a friendly and caring environment.
In order to determine the most suitable treatment, the following procedure is followed.
Initial Consultation
On arriving at the clinic for your first appointment you will be asked to fill out a short medical questionnaire relating to your current venous problems and your medical history. If there is anything you don't understand on this questionnaire, or require further explanation, please ask.
Following this, Dr Hunter will take a detailed medical history and perform a physical examination of your legs. If there are significant varicose veins, further investigation is usually required. This involves an ultrasound scan (see below). Following this your precise venous problem can be defined, the treatment options discussed in detail, and the appropriate option will be recommended. Ultimately, it is your choice what treatment you would prefer.
Ultrasound Scan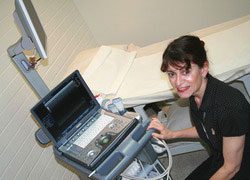 Ultrasound scanning has become the gold standard for evaluating venous disease of the legs. Ultrasound services to the Hunter Vein Clinic are provided by Vascular Health Care. Dr Alan Bray's vascular laboratory in Newcastle was the first centre in Australia to recognise and promote the value of this investigation for venous disorders. Our dedicated vascular sonographers provide all of our venous ultrasound.
Ultrasound has been used since the 1950s and involves passing sound waves into the body by moving a transducer (probe) over the skin. These sound waves are reflected off internal structures back to the probe. The ultrasound machine then reconstructs the returning sound waves (echoes) to produce visible images which are displayed on a screen. Doppler ultrasound detects the speed and direction of blood flow in your veins. There are no known harmful effects of ultrasound on the body.
Ultrasound scanning of both legs takes 45 – 60 minutes, involves minimal discomfort and enables veins to be visualised from the groin to the ankle. It is a non-invasive examination and there are no needles or dyes injected. You will be asked to remove your outer clothing from the waist down, including any tight underclothes such as stockings or step-ins. You will be required to stand on a step in front of the examination bed for most of the examination as "reflux" or incompetence of the valves is best demonstrated with your body upright. Water soluble gel will be placed on your skin in order for the probe to contact adequately with the area, allowing the relevant veins to be examined. The probe will be run down your leg, from the groin to the ankle. A cuff may be placed around the lower part of your leg and periodically inflated and released in order to assess the pattern of blood flow in your veins.
Dr. Hunter will be able to give you the results of your ultrasound examination following completion of the scan or at your next appointment. Based on the results of the ultrasound and information obtained from history and examination at the initial consultation, treatment options can be discussed.